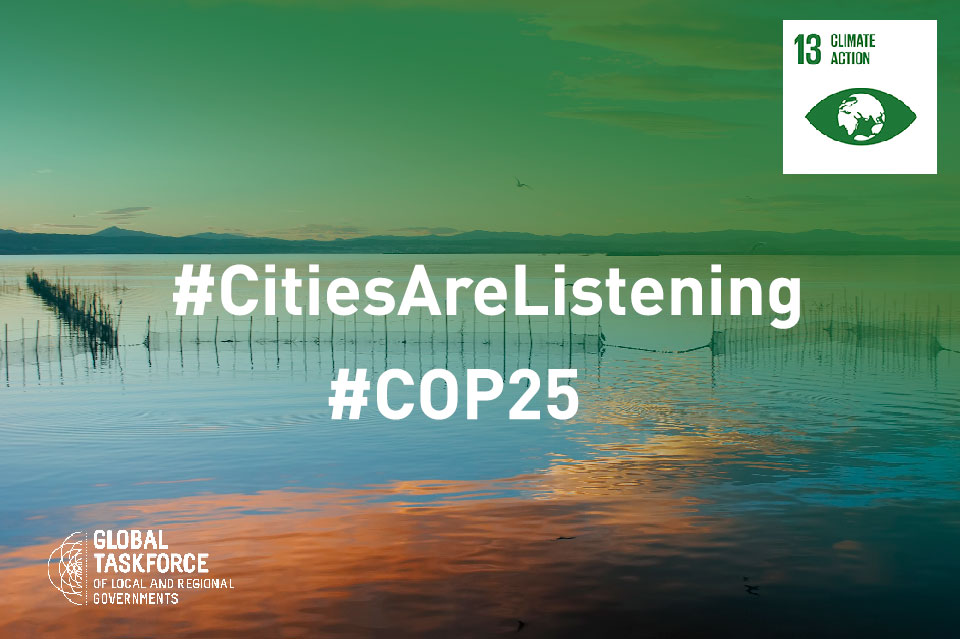 The 25th Conference of the Parties is being held in Madrid from 2 to 13 December. The first week will focus on the use of scientific knowledge as the base for international dialogues, whereas the second week will be based around negotiations to seal the Paris Agreement. Our constituency will seek to take advantage of this momentum so that our perspectives are acknowledged, as the sphere closer to people's needs and as indispensable partners for transformation.
Multilevel governance, the recipe to fight climate change
In the face of multiple, complex and interconnected challenges at the global level, it is essential to work together among the different spheres of government in order to achieve common objectives considering all stakeholders. Increasingly, local and regional action is accelerating commitments to implement Agenda 2030 and the Paris Agreement so that the future of the climate considers the principles of solidarity, social justice, intergenerational dialogues and peace and with a human rights approach.
International political commitment on climate must be based on local visions looking at people's economic, social and environmental needs so as not to leave anyone behind. Local leaders will have a place on the climate agenda where their contributions will serve as a unanimous response to national governments to finally see the need to dedicate resources and funding so that climate and sustainability policies can be implemented in all territories.
If the COP 24 served to continue with the negotiations of the Paris Agreement, this Climate Summit, which also brings together experts, scientists, civil society, citizens and leaders from all spheres of government, should be a firmer and more ambitious step in favor of the recognition of the key role of local and regional governments to carry out measures in line with a true ecological transition that is capable of responding to the challenge of keeping the planet's temperature below 1.5ºC.
From Monday 2 December to Thursday 12 December there will be events and meetings in which the members and partners of the Global Taskforce of Local and Regional Governments will have the opportunity to influence the dialogues present and raise their voices on the need to address the global development agendas as one, and that only through a multilateral response between different actors, spheres of government and stakeholders will it be possible to implement the change we need at all levels: economic, social, political and cultural.
The highlights of the Global Taskforce climate agenda are:
- Key factors for strengthening implementation synergies between the Climate and Development Agendas - 5 December, 14:30-15:45, SDG Pavilion
- Territorial Determined Climate Contributions for Africa to enhance NDC ambition and implementation - 2 Decembers, 15:00-16:30, UNFCCC Room 5
- No Planet B Latino Summit + Second Circular Economy Summit - 3 December: 10:00-14:00
- Transport Mitigation Adaptation in Cities - 4 December 16:45-18:00, Room 1 Blue Zone
- Delivering Climate Finance at local level, - 5 December, 14:30-15:45, SDG Pavilion
- GCom Day: accelerating Action and Scaling Up Impact - 9 December 09:30-18:30 – EU Pavilion
- Latin America and Caribbean Local and Regional Governments Summit – 9 December, 10:45-12:15, Euroclima Pavilion
- From NDCs to Climate Emergency: multilevel and collaborative action accelerating climate action. – 9 December 10:15-12:00, EU Pavilion (within GCoM Day)
- Multilevel governance in climate adaptation – 9 December, 15:00-16:30, UNFCCC Room 5
- City Climate Action! Activating the potential of cities for low-carbon and resilient development – 9 December, 18:30-20:00, UNFCCC Room 5
- COP 25 Presidency: Chilean Local Authorities Summit – 9 December 19:00-20:30, Chilean Pavilion – 9 December, 19:00-20:30, Chile Pavilion
- From Chile to UK- Consolidating city and other subnational contributions - 10 December, 18:15-19:45, Chile Pavilion
- From Durban to Madrid: Climate emergency priority of the global movement of local and regional governments – 11 December 11:00-12:30, Spanish Pavilion
- High level international dialogue of local and regional governments for climate change - 11 December 13:00-14:45, Spanish Pavilion
- UNFCCC Dialogue with UN Secretary General and UNFCCC Executive Secretary – 11 December, 15:00-16:30
- The implementation of territorial actor's adaptation strategies -12 December, 10:00-11:30, French Pavilion
A call to action towards a future that considers biodiversity and ecology - From Durban to Madrid
The process of changing to a zero-emission world requires a drastic change in the decision-making process. This change must include local communities, who are the ones facing climate challenges on a daily basis, and it is their resilience that offers lessons from which everyone can learn.
Among the outcomes of the World Summit of Local and Regional Leaders that took place in Durban, the Manifesto on The Future of Biodiversity argues that more spaces for representation of local and regional governments at the global decision-making table should be opened, thus allowing communities to actively participate and contribute to the process of developing a strong global framework on biodiversity beyond 2020.
With this commitment ICLEI, as focal point of the LGMA constituency, reinforces our joint advocacy work, negotiation and implementation with various GTF members - such as Regions4, the Committee of the Regions of the European Union, UCLG and others - to carry out a "New Deal for Nature" to ensure that the role of local and sub-national governments is firmly rooted in the Global Biodiversity Framework after 2020. This is also why their central role in the Climate Summit is to encourage a call for local action. 
The fight against climate change must be rooted in pursuing a true ecological transition, involving all spheres of government and citizens, in pursuit of a true transformation of the planet from the principles of solidarity and subsidiarity. A society that aspires to the prosperity and sustainability of our planet must be supportive and create capacities for change from the level closest to the people, from the local level.
The High-Level dialogue on "Local acceleration: A common commitment to face climate change" that will take place on December 11, aims to address the need to contemplate local visions and strengths to achieve the global climate agenda, as well as the need for regulatory and financial frameworks that facilitate and allow a true management of climate issues in the territory.
Because cities are in the front line of adapting to the effects of climate change, the results of the Manifesto on Ecology for the Future adopted in Durban urge us to call for local action at this COP 25, to show what is already being implemented in cities by innovative leaders who, together with their citizens, are rethinking the model of life needed for the future.
This call to action extends to national governments to support these paradigms of transformation and ensure that there are sufficient resources to implement ecology-related SDGs in each territory.
The only possible response to this global challenge must be from the perspective of multi-level governance and with solidarity as a key value in bringing about this new era of action that our planet needs.
Further information:
Read the agenda of local and regional governments at the COP

here