Submitted by C40 and UCLG
35 Mayors and representatives of G20 cities gathered in Tokyo for the second Urban 20 Mayors Summit at the kind invitation of Governor Yuriko Koike to discuss issues of climate action, social inclusion and sustainable economic growth. They committed to addressing these global challenges and urge G20 leaders to work together with cities to achieve the Global Goals.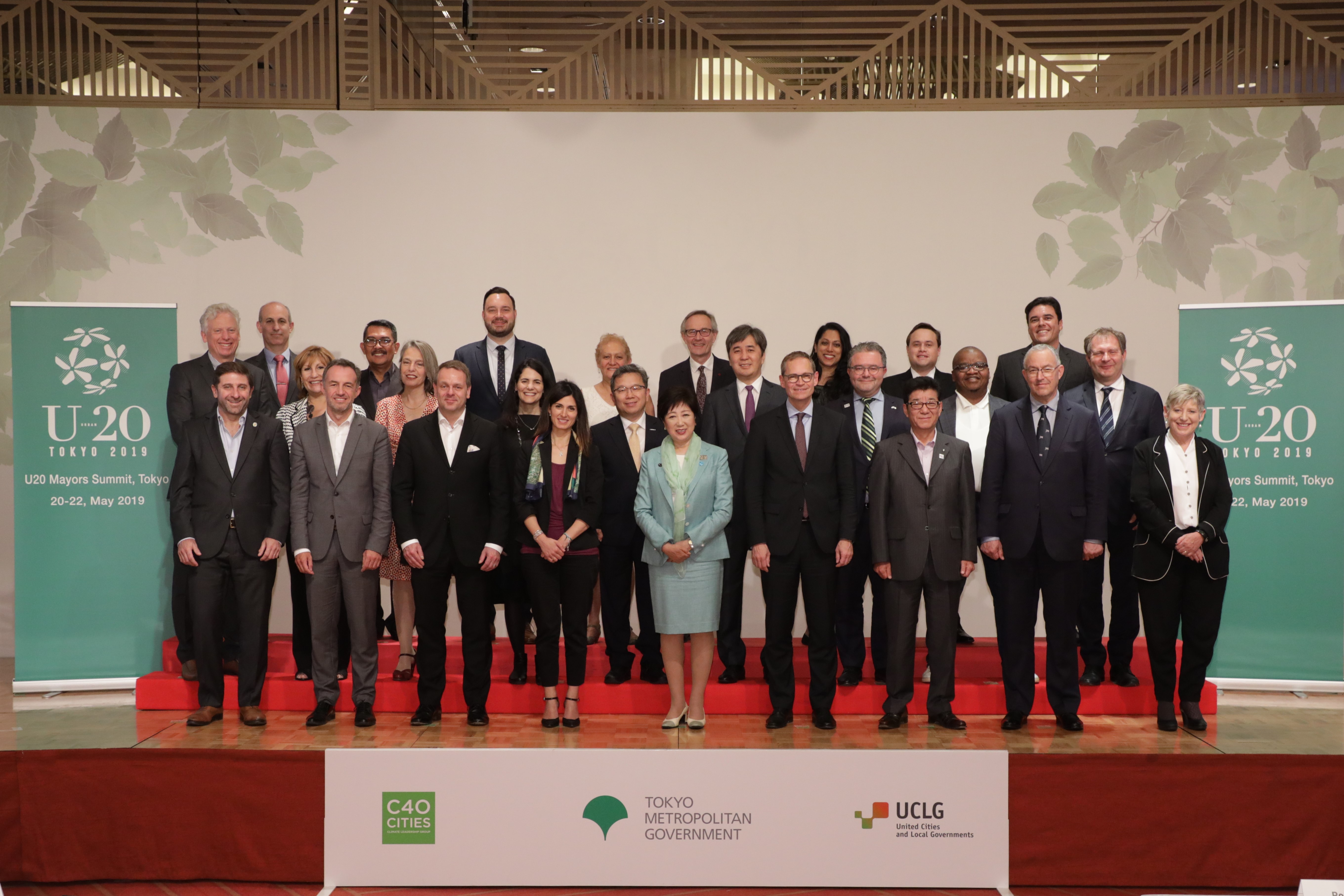 As the world faces complex challenges, cities have a big say in the way societies address them and how the Global Goals are achieved. In this spirit, cities have come together as the Urban 20 to convey local views and solutions to the G20 agenda. Building on the legacy of the 2018 Urban 20 Communiqué and Summit in Buenos Aires, city leaders gathered in Tokyo have handed a Communiqué to the Japanese Prime Minister and 2019 G20 Chair, Shinzo Abe. The 2019 Urban 20 Tokyo Mayors Summit Communiqué urges national governments member of the G20 to accelerate action and work together with cities on issues of climate action, social inclusion and sustainable economic growth. The Communiqué was signed by the mayors and governors of 30 cities, representing 126 million people.
The U20 Communiqué recalls the key role of the Paris Agreement, the 2030 Agenda as universal frameworks for addressing the planet's most urgent priorities, and stresses the importance of cooperation between all spheres of governments to achieve the Global Goals and address the climate emergency.
Governor of Tokyo and 2019 U20 Chair, Yuriko Koike highlighted the need of working together with national governments to truly achieve global sustainable development. In her words, "If we do not implement local policies, neither the SDGs nor the Paris Agreement will be realized".
For his part, Fernando Straface, Secretary General of the City of Buenos Aires underlined that "cities are being challenged to be a bridge of dialogue and cooperation with the nations of the G20". Buenos Aires played a major role in building this platform when it chaired the 2018 U20 and handed the first ever U20 Communiqué to President Macri, then President of the G20.
Maintaining the U20 as a platform that enables cities to engage with the G20 national governments is key to foster multi-level collaboration, develop and implement adequate housing strategies, take bold climate action, provide access to basic social services and build inclusive, peaceful, safe and discrimination-free cities.
Prime Minister and 2019 G20 Chair, Shinzo Abe received the Urban 20 delegation and the U20 Communiqué from the hands of the Governor of Tokyo, Yuriko Koike, alongside the Mayors of Berlin, Helsinki, Rome, Rotterdam and Osaka. Prime Minister Abe committed to raising the contributions of cities during his tenure as President of the G20 and to his peers, when G20 Heads of States will meet in Osaka on June 28-29.
Urban 20 is a city diplomacy initiative created in 2017 by the Mayors of Buenos Aires and Paris, to give a voice to cities in the G20. It is convened by C40 and UCLG, with the support of many partners including several members of the Global Task Force such as Iclei and Metropolis
More information: