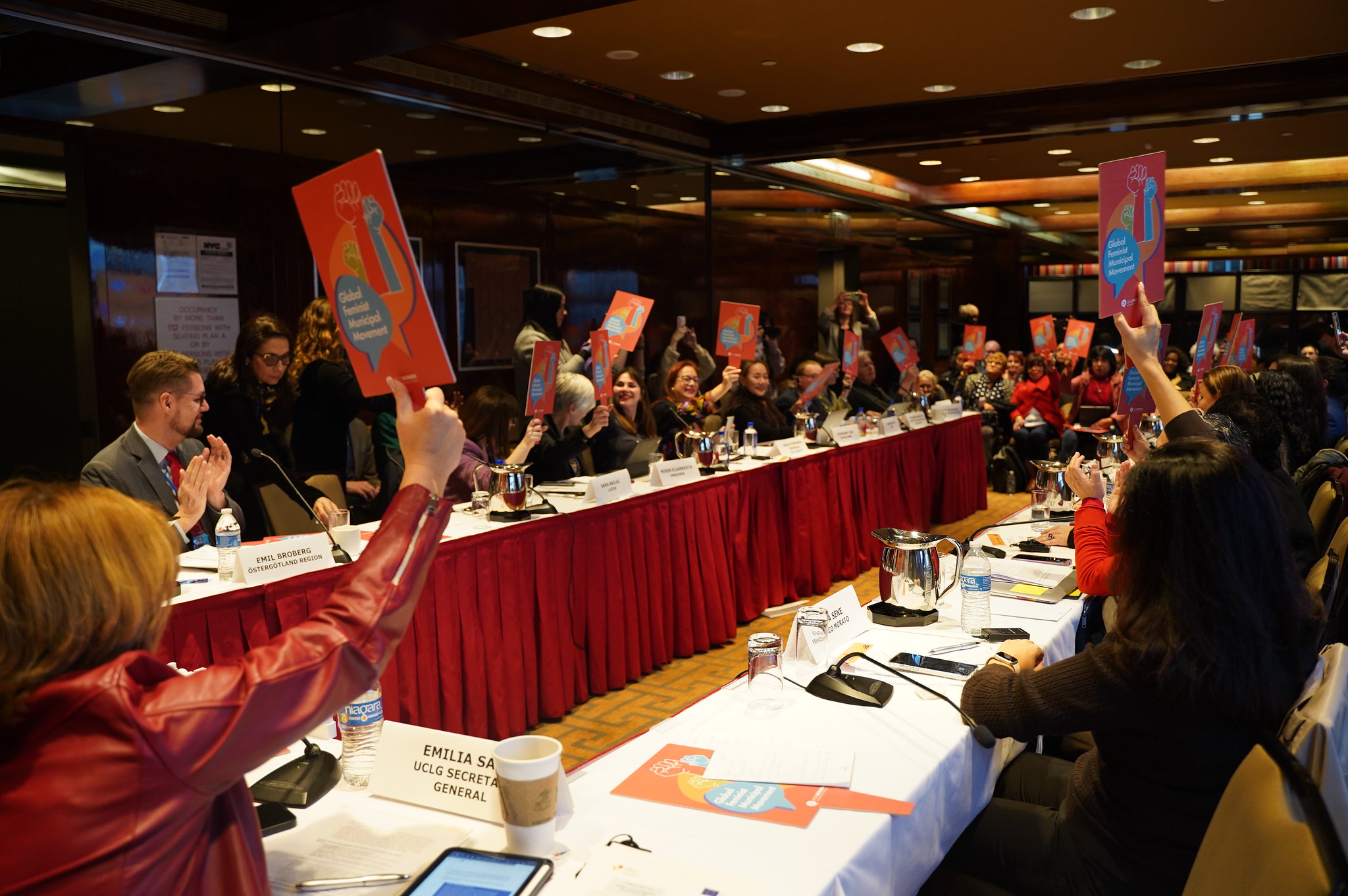 The Commission on the Status of Women (CSW) is a key annual moment to reflect on the position of women and gender diverse groups around the world. The 67th Session of CSW is taking place between 6-17 March 2023, and focusing on the priority theme: Innovation and technological change, and education in the digital age for achieving gender equality and the empowerment of all women and girls. The Review theme is: Challenges and opportunities in achieving gender equality and the empowerment of rural women and girls.
Each year, UCLG gathers the constituency of local and regional governments, partners and civil society to collectively amplify our work, and reflect on our role and progress in localizing SDG 5, challenging gender-based inequalities and violence, and advocating for equitable political representation in all spheres of leadership.
From 5-9 March, a diverse delegation of local and regional government elected and appointed officials was led by UCLG Co-president and Chair of the Standing Committee on Gender Equality, Fatimetou Abdel Malick, President of Nouakchott Region, in New York City. Among other events, the constituency participated in the Local and Regional Governments Day and two CSW NGO Parallel sessions. In the week to follow, the voices of the constituency of local and regional governments will be further amplified in the General Discussion as well as the Interactive Dialogue on the priority theme, which take place within the UN Headquarters. 
Local and Regional Governments' Day
On 7 March, an overflowing room engaged with speakers from over 16 countries, representing local and regional governments, civil society, feminist movements, and NGOs. Inputs were heard from a diversity of voices hailing from Global North and South, including from Chile, South Africa, the Philippines, the USA, Serbia, India, Sweden and Mauritania. 
Emilia Saiz, Secretary General of UCLG WS, opened with a strong call for feminist local leadership, and emphasized the importance of solidarity and partnerships. The Day was opened by UCLG Co-president, Fatimetou Abdel Malick: "We need a municipalist vision that takes into account the dreams of women, girls, men and boys, all equally empowered"; and Anita Bhatia, Assistant Secretary General and Deputy Executive Director of UN Women: "Violence against women has been treated as a household issue, rather than a systemic one - only through local feminist leadership can this critically be addressed". 
The first panel explored the transformative role of 'care' and 'care services' for feminist cities and territories, with some connecting it to the primary theme of digital technologies. Laura Neuman, Senior Advisor at the Carter Center emphasized that "when we talk about care and care services, it's not enough to have them if no one's using them: digital technologies are critical to enable these services at the local level". "Neighborhoods must be planned so that all people's needs are accounted for. Care work must be considered from the bottom up," shared Claudia Schöning-Kalender, Chairwoman of the SPD, Mannheim, and Chair of the Standing Committee on Gender Equality for the Council of European Municipalities and Regions (CEMR). Rosa Pavanelli, General Secretary, Public Service International added that "like care work, education and health, data should also be treated as a collective common" 
Other speakers focused on the issue of leadership. "Women still face complex obstacles when it comes to entering local leadership, and accessing local funding and information. Addressing these will be key to achieving gender justice," shared Rowe Malick Lowe, the first woman mayor of Banjul, and President of REFELA. The mayor of Villa Alemana, Javiera Toledo highlighted the major challenge of online violence and bullying against women, especially women local elected leaders, while the Mayor of Francisco Morato, Renata Sene emphasized that the "we need to put women at the forefront of leadership in order to achieve sustainable development."
The second panel explored how we can advance feminist movements and leadership, putting the Generation Equality Action Coalitions (AC) in the spotlight. UCLG World Secretariat is a commitment-maker, co-leader and co-facilitator of the AC on Feminist Movements and Leadership, and three co-leaders represented the AC: Xenia Kellner, Founder of Young Feminist Europe unpacked the AC's Blueprint and emphasized the importance of including young persons in decision-making; Ishani Cordeiro, Senior Advocacy Advisor, Women Enabled International, urged that "women with disabilities need to be in space where decisions are made" and shared their Feminist Accessibility Protocol; while Dragana Todorovic, Executive Director of the EuroCentral Asian Lesbian Community highlighted that "LGBT+ persons are underrepresented in local government and when included they often are recipients of threats and violence - offline and online. Yet their political participation is critical."
Aissata Camara, Deputy Commissioner for Policy & Strategic Relationships of New York, Chief of Staff of New York City's  [X Dept] joined to share on the critical programs promoting gender equity and addressing violence against women in NYC; and Sandy Schilen, Executive Director of the Huairou Commission emphasized, "We need to bring local government to Generation Equality and into the CSW and ensure that the partnerships with local and regional governments is a catalyst for feminist politics locally and globally".
The third panel explored more broadly the work on Feminist Municipalism and how cities are connecting the local with the global agendas. Emil Broberg, Regional Councillor, Östergötland, suggested that, in line with the Pact for the Future, "To promote gender equality, it's not just about doing politics but organizing politics differently, and ensuring women are included in processes from the start". Similar, Yolande Hendler, Secretary General, Habitat International Coalition recalled that guaranteeing gender equality means guaranteeing the right to the city. Delving deeper into this, Fernanda Sixel, General coordinator, Coordination of Policies and Women's Rights (CODIM) in Niterói City Hall shared how her municipality is a pioneer in Brazil for public services especially oriented towards women, against violence, and in terms of access to trainings. 
Stephany Uy-Tan, City Councilor of Catbalogan reflected that "capacity building and access to information" were key to women's empowerment and local governments play an essential part in this, while ​​Miren Elgarresta, Director of Emakunde, Basque Institute for Women followed to reflect on the importance of building supportive local institutional architecture. Chingyu Yao, Director General of Secretariat of Taipei municipality shared on how women leaders actively initiate cross-departmental partnerships and champion efficiency, and Andrew Bata, Senior Manager, Member Relations - North America, UITP emphasized that public transport is the grand equalizer and provides accessibility to all to services, work and education".
The session was concluded with closing remarks by María Fernanda Espinosa, UCLG-UBUNTU Advisor: "The Feminist Municipal Movement is transforming the way we organize our societies and govern our commons. Care as common, care as a human right: Care is the economy of the future. In spite of AI there is nothing more powerful than radical care"
Cities Forging the Path to Gender Justice
The first of the constituency's CSW NGO Parallel events took place on 5 March. Co-organized by the Council of European Municipalities and Regions (CEMR), PLATFORMA, United Cities and Local Governments of Africa (UCLG Africa) and the Standing Committee for the Euro Mediterranean Partnership of Local and Regional Authorities (COPPEM), the session explored how regional Charters for gender equality are key to move from good intentions to effective and impactful change. It was emphasized that while developing a charter should be celebrated as an important step, it needed to be accompanied by a diversity of implementation strategies, and buy in from different key partners and stakeholders. Similarly, connecting to the priority theme, it was further highlighted that the power of technology and social media is only as strong as the solidarity of our partners and allies. Thus the session ended with a strong call to support women local leaders in their path towards gender justice, using the many tools available to the local level.
Speakers:
Fatimetou Abdel Malick, Co-President of UCLG, President of Nouakchott Region, Chair of the UCLG Standing Committee on Gender Equality, President of UCLG Africa, 
Emil Broberg, Regional Councillor, Östergötland
Silvia Baraldi, City Councillor, Legnago, Vice-Chair of CEMR Standing Committee for Equality 
Claudia SchöningKalender, Chairwoman of the SPD in MannheimWallstadt, Chair of CEMR Standing Committee for Equality
Rohey Malick Lowe, Mayor of Banjul, President of the Network of Locally Elected Women of Africa (REFELA)
Claire Hart, VicePresident of Montpellier Mediterranee Metropole Delegate for International Relations, European Cooperation Councillor of Montpellier and member of COPPEM 
Local and Regional Governments Empowering All Women, in all their Diversity, through Rights-Based Approaches to Technologies
On 9 March, this second Parallel event explored how local and regional governments are facilitating gender-sensitive access to technology and innovation. It highlighted that, while digitalization can transform the way in which citizens interact with local governments and can support streamlining bureaucratic procedures, fostering understanding of government processes, and promoting access to information and easy communication channels with public administration, such processes must be designed in consultation with women and gender diverse groups, to ensure their needs are directly addressed. The session shed light on the diverse realities facing municipalities, and the need to account for critical barriers such as illiteracy and its disproportionate impact on women, and highlighted the work of local and regional governments in utilizing technology as a means to prioritize proximity and care, and bridge the urban-rural digital divides, while ensuring educational, economic and leadership opportunities for women in all their diversity.
Speakers: 
Javiera Toledo Munoz, Mayor of Villa Alemana 
Silvia Baraldi, City Councillor, Legnago, Vice-Chair of CEMR Standing Committee for Equality 

Dr. Selma Acuner

, Women's Coalition - Turkey, Representative of the Women's Major Group 

Myra Tambor, Gender and Development Program Coordinator, Office of the Mayor, Catbalogan City
Carla Tavares, Coordinator of Entrepreneurship and Innovation, Coordination of Policies and Women's Rights (CODIM), Niterói City Hall 
Dr. Katherine Kline, Co-chair of the Older Persons Constituent Group, General Assembly of Partners
Aichetou Diallo, President of the Social Commission of Nouakchott Region
Maite Rodriguez, Regional Coordinator, Women and Habitat Network Latin America and the Caribbean
Luciana Melo, Workers Union in Public Administration and Municipalities in the Municipality of São Paulo
Sri Sofjan, Huairou Commission
The CSW67 marks an important moment in the feminist municipalism agenda, as amplifying the voices of local and regional governments in these international fora remains critical to ensure the call for feminist, caring policies is heard loud and clear. You can read the constituency's Written Statement to the CSW for more insights into the positions of local and regional governments towards the CSW's priority theme.