Global Taskforce networks UCLG, ICLEI and C40 Cities are mobilizing their members and partners to advocate for the Special Report, which they say would be "a milestone in IPCC history."
From April 11-13, the Intergovernmental Panel on Climate Change (IPCC) will meet in Nairobi to decide on its work programme and select from a shortlist of Special Reports on climate change. Among the shortlisted reports is the proposal for a Special Report on Cities and Climate Change, submitted by the South African government.
A Special Report on Cities could build on Chapter 8 of the IPCC's Fifth Assessment Report in 2014, which was dedicated to Urban Areas. It would be the most comprehensive global resource on cities and climate change, allowing all the disperse research and long-term scientific evidence on urban climate impacts, challenges and solutions to be bought together in a single document for a global audience.
Following the recognition of cities and other Non-Party stakeholders by the Paris Agreement, the proposed Special Report represents an enormous opportunity to raise awareness of the impact of climate change in cities and of the role of local governments in reducing greenhouse gas emissions.
The Special Report on Cities and Climate Change has been ranked in the top three of the 27 shortlisted Special Reports by the World Climate Research Programme, and the proposal has received positive feedback from all three IPCC Working Groups.
The Special Report on Cities and Climate has the support of UN-Habitat, UNSDSN and GTF networks UCLG, C40 and ICLEI.
In a letter to the IPCC expressing their support for the report, President of UCLG and Mayor of Istanbul, Kadir Topbaş, President of C40 and Mayor of Rio de Janeiro, Eduardo Paes, and President of ICLEI and Mayor of Seoul, Park Won-Soon, underlined their organizations' willingness to share their research and data on city climate action, should the report be commissioned.
How to support the campaign
The #CitiesIPCC campaign aims to secure a maximum of the 195 national votes for the Cities and Climate Change proposal during the IPCC 43rd Session on April 11-13. A number of major cities, including Sydney, Vancouver, Rio, and Seoul, have already started to call on their national governments to vote in favour of the report at the IPPC.
With this in mind, cities are invited to:
Urge their national governments to vote for a Special Report on Cities and Climate Change in April in Nairobi.

Support the Special Report on Cities and Climate Change on social media campaign using the hashtag #CitiesIPCC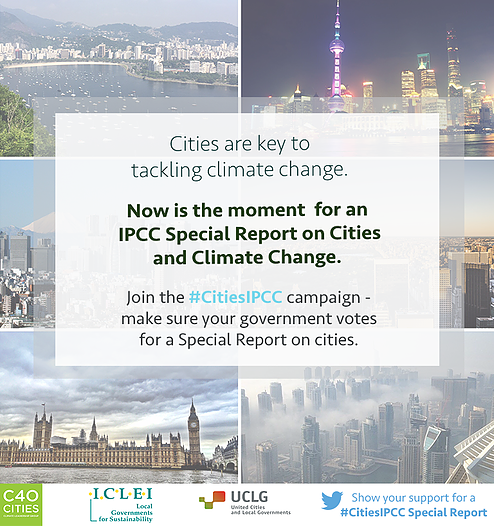 More info:
Full shortlist of proposed Special Reports
Letter of support from presidents of C40, ICLEI and UCLG
Letter of support from Executive Director of UN-Habitat, Joan Clos